A couple of months ago, I talked about trying to innovate on society's real-life problems. My idea was to create an environment where we could harness the power of great minds (who are not currently connected to the problem) to bring fresh ideas and explore new options.
Last month, we ran our first 'innovation day'.
What happened?
We used a day-long version of a Google Sprint
, similar to one used on the wonderful R4 show, The Fix.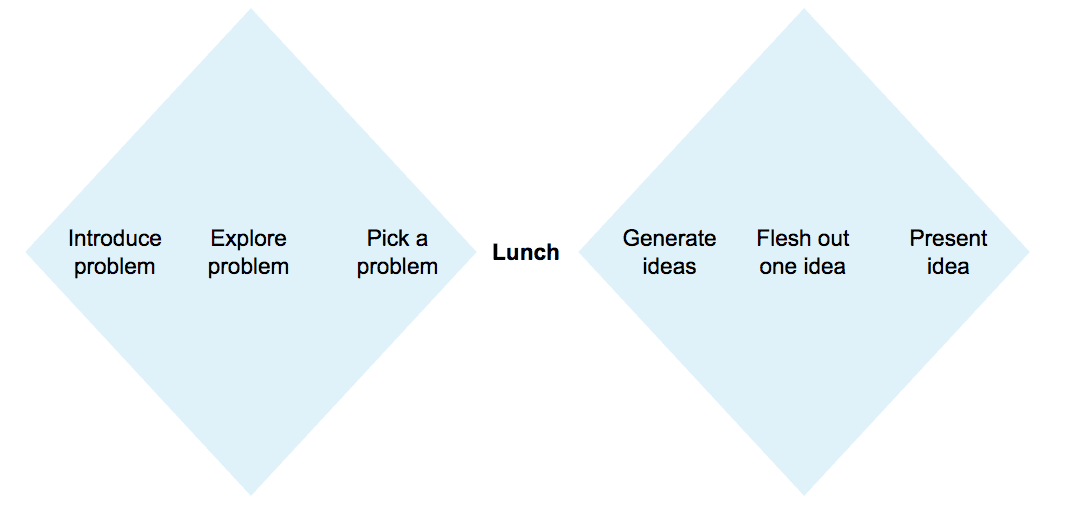 Catherine Hinwood, Deputy Director for Victim and Witness Policy at the Ministry of Justice, introduced the challenge ("How can we support witnesses to better prepare themselves when attending court?") and explained the current situation. Our attendees then formed into groups and got a deeper understanding of the problem by digging into a wealth of data and research, as well as quizzing a variety of experts from MoJ, courts and third party support services.
We then asked them to choose an area they felt would benefit from closer inspection, using 'How Might We' statements.
After a lunch of freshly baked pizzas, the teams got down to business again. We asked them to open up their minds, helping them on their way by challenging them with questions such as "What would happen if Homer Simpson was in charge?" We wanted to get them imagining the unimaginable, before narrowing their choice to investigate how one solution might work.
The final segment was for each group to develop and refine one of their ideas. This culminated in them presenting their concept to a panel of experts, using whatever format they wanted. The groups used a variety of methods, from role-playing to Playmobil figures.
Feedback from the panel was positive, with some useful and probing thoughts.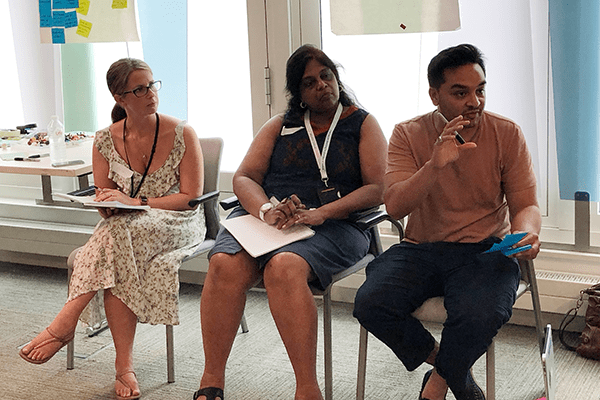 The panel of experts giving feedback on the ideas.
What was the result?
We hope that innovation days will inspire people to take up the challenge (whether that's as a social enterprise or money-earning business), rather than come up with a product or service for a government institution to take away an implement. I describe these days as planting acorns in people's brains, which might grow into something in the future. However, it might take months, or even years, before we see anything.
And, because we don't own any of the ideas generated on the innovation day, attendees are free to run with them without our input or input from the Ministry of Justice. However, the Victim and Witness Policy team said they had set an afternoon aside in August to welcome back any attendees who wanted to talk more about their ideas. And their door will remain open to them in the future.
So, did we plant an acorn? Did we get people to think differently? Did the host organisation (i.e. MoJ) see the approach as valuable and shake their usual way of thinking? The answer is "yes" to all of those.
What people said about the day
Thanks all, so grateful for the effort that you all put into making the day such a success. It's a really innovative piece of work that I am extremely supportive of.Catherine Hinwood, Deputy Director for Victim and Witness Policy at the Ministry of Justice
It was a real pleasure to be with you last week. There was a real sense of creativity and I think it was really useful to have a wide range of participants present; so often we settle for listening to those we a think are the obvious stakeholders and, as a result, tend to become rather insular in our thinking and planning. Your approach was quite a refreshing change.
David Kenyon, Supporting Justice
I just wanted to add my congratulations to you for such an inspiring event, it was really focused and a positive to see so many people 'walking in the shoes of' and really caring about wanting to improve service. They were a great group!
Trudy Lewis, Head of HMCTS Midlands Regional Support Unit
Will there be another innovation day?
Yes. We are already planning the next innovation day.
You can read more about our innovation days and sign up to our mailing list here.