What is coaching?
The Oxford Dictionary defines a 'life coach' as "a person employed to help people attain their goals in life." But people who have experienced coaching would say that it is much more than that. Many find it a life changing experience that dramatically improves their outlook on work and life while improving their leadership skills. It helps people tap into unknown potential unlocking sources of creativity and productiveness.
The International Coach Federation (ICF) defines coaching as "partnering with clients in a thought-provoking and creative process that inspires them to maximise their personal and professional potential even in the face of growing complexity and uncertainty."
Coaching is NOT consulting.
Consultants are hired because of their specific expertise. Often they assess a company's practices and offer recommended solutions for improvement. Coaching, on the other hand, is a discovery-based process in which the client is led to create the solution within themselves and are held accountable to implement it. This empowers employees to produce creative solutions on their own rather than carrying out someone else's recommendations. Therefore, coaching offers a long term solution as it equips people to face challenges in the present and the future.
Coaching is NOT counseling.
Coaching is future focused, while therapy is often concentrated on past pain or current challenges. Therapy deals with healing pain, dysfunction and conflict. Therapy outcomes often include improved emotional states. While positive feelings may be a natural outcome of coaching, the primary focus is on creating actionable strategies for achieving specific goals.
Coaching is NOT mentoring.
Mentoring is offering guidance from one's own experience or in a specific area of career development. Although some coaches provide mentoring as part of their coaching, such as in mentor coaching new coaches, coaches are not typically mentors to those they coach.
Coaching is NOT training.
Training programs are based on learning certain objectives set out by a curriculum. Coaching is not set on a curriculum; rather it is customised for individual clients and not based on a linear course. While there are objectives in coaching, they are set by the coachee with guidance from the coach.
Why is coaching effective?
Highly renowned companies have realised coaching is an effective tool to advance their business and achieve their goals. Major corporations from a variety of business sectors have turned to coaching to improve their businesses, including IBM, Nike, Verizon and Coca-Cola Enterprises. Coaching is ushering in a new corporate culture, helping deal with complex job shifts and fine tuning leadership performance. Now more than ever, it is vital for an organisation to evolve and stay ahead of an ever-changing global market. Coaching helps organisations develop pliable, yet practical, methods to achieve strategic business goals, sustainable workflow and maintain high levels of customer satisfaction.
Coaching dramatically improves leadership performance. It can enhance communication skills and public speaking by empowering employees with renewed confidence. It also helps employees navigate organisational politics by fine-tuning listening skills and helping them accept feedback from colleagues.
Coaching Benefits.
Professional coaching explicitly targets maximising potential. At the heart of coaching is a creative and thought-provoking process that supports individuals to confidently pursue new ideas and alternative solutions with greater resilience.

In the face of uncertainty caused by workforce reductions and other factors, expectations of the workforce that remains in a suffering company are very high. Restoring self-confidence to face the challenges is critical to meet organisational demands.

How can I be sure coaching works?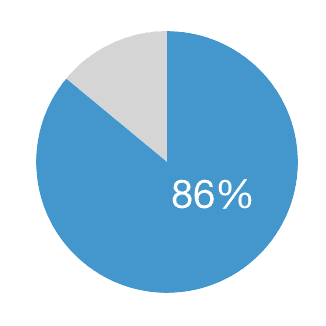 Numbers don't lie and ICF has demonstrated the highly effective nature of coaching through studies. They report high levels of satisfaction among coaching clients and validate a significant return on investment (ROI) for companies. According to the ICF Global Coaching Client Study*, the vast majority of companies (86%) say they at least made their investment back. In fact, almost one in five people (19%) saw an ROI of 50 times their investment, while a further 28% saw an ROI of 10 to 49 times the investment.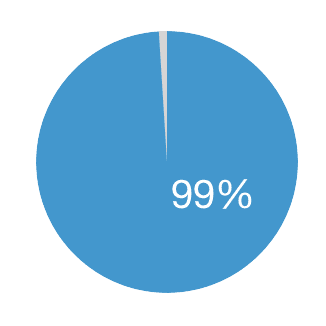 Virtually all companies or individuals who hire a coach are satisfied. According to the ICF Global Coaching Client Study*, a stunning 99% of people who were polled said they were somewhat or very satisfied with the overall experience. Advocacy for coaching also remains quite strong. In fact, 96% indicated they would repeat the process given the same circumstances that prompted them seeking a coach in the first place.
How to know if a coach is right for you.
Ask your coach for a chemistry session. This is where you get to meet a potential coach to see if you want to work with each other.
Chemistry sessions should allow you to:
feel comfortable. It is important that you feel at ease and safe in your coaches presence
sense a connection. This might be some similar life experiences, complimentary abilities, a shared industry knowledge, or something else
believe that the coach will help you
feel that you have been listened to
have had your questions answered
feel driven. By the end of the chemistry session, you should be excited about meeting the coach again and be eager to move forwards
Why should you come to us rather than another coach?
We believe that everyone has the right to improve their life and that the best way to do this is through regularly making small evolutionary improvements. We honour the client as the expert in his or her life and work, and believe every client is creative, resourceful and whole. We consider our responsibility to our clients is to:
discover, clarify and align with what the client wants to achieve

encourage client self-discovery

elicit client-generated solutions and strategies

hold the client responsible and accountable
We are ICF Credentialed coaches who have completed an ICF approved training program which reflects our high-quality training, commitment to professionalism, experience and adherence to a strict ethical standard. We have fulfilled coach-specific training and achieved a designated number of experience hours.
Please contact us to find out more or to book a chemistry session.
>> Some examples of our work <<
For more information on what coaching is, please check out these helpful PDF guide: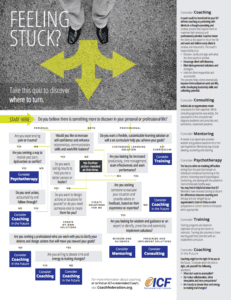 * Data from the 2009 ICF Global Coaching Client Study, the 2010 ICF Global Consumer Awareness Study, and the 2012 ICF Global Coaching Study were commissioned by ICF but conducted independently by the International Survey Unit of PricewaterhouseCoopers.