Workshops to help individuals and organisations learn and apply Agile
Gain greater confidence in applying Agile ways of working and thinking
What happens without training
Doing nothing is always an option. Organisations across the globe continue to struggle each day without investing in the people who work there, and the people continue to work unhappily. Teamwork and mastery aren't compulsory. Neither are productivity and effectiveness.
Review our training options and read some testimonials
Find a time convenient for you and book your course
Enjoy the fully immersive course
Take what you've learned and make a better world
2-day Agile Fundamentals
The starting point for all teams and organisations who want to take an agile...
1-day Kanban bootcamp
Experiencing how to apply the six core properties of the Kanban Method by using...
User-Centred Design intro
UCD is an approach that helps organisations design and develop products and...
Need help choosing?
Schedule a call with us to help you pick the best training for your needs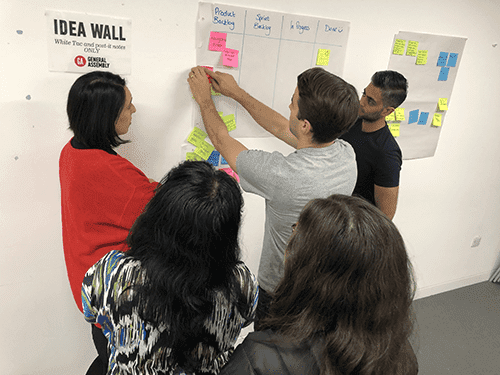 "Really great course, very interactive and brilliantly delivered. I have learned about lots of great Agile / Scrum skills and techniques."
"Really engaging training, enjoyed every second. Very enthusiastic and experienced trainers."
Organisations we have worked with
Helping organisations implement agile successfully
Contact us today to start building your tailor-made plan so that you can successfully implement better agile ways of working.