The starting point for all teams and organisations who want to take an agile approach, is to understand why such an approach is beneficial. This course explains why using an agile mindset is important, then explains how you might apply the mindset in a real-world situation. In effect, it explains why "being agile" is important, but also how to "do agile".
This 2-day or 3-day course is accredited by ICAgile. It is the foundation course for all other tracks in the ICAgile Agile Delivery learning roadmap and provides a solid foundation upon which further specialisation can be developed. For more information on the learning outcomes covered by this course, please see the ICAgile website or contact us.
This course is aimed at anyone who wants to know more about agile and Scrum.
This course requires attendance, knowledge acquisition and a hands-on demonstration from the learner that they can use an agile mindset and approach in practice by the end of the course.
Upon successful completion, learners will receive the ICAgile Certified Professional (ICP) certification.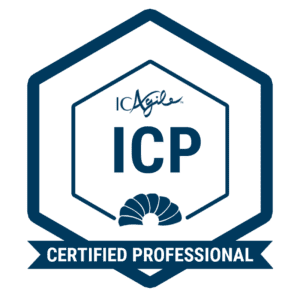 This is a bootcamp for beginners and those with some experience of Scrum. No prior knowledge is required.
"Really great course, very interactive and brilliantly delivered. I have learned about lots of great Agile / Scrum skills and techniques."
"Really engaging training, enjoyed every second. Very enthusiastic and experienced trainers."
"Feel so much more confident about making decisions in my workplace."
"Great course. Really interactive and fun. Instructors super knowledgeable. Flexible and great balance of coaching/instruction."
"I knew nothing and feel like I can now implement this at work."
"One of the best training courses I've ever completed. Excellent."
"Honestly the best work related workshop I've ever been to, as it was concise in its purpose and helped provide clear and actionable outcomes for both the team and me personally."
"It was a fantastic insight into Agile and Scrum. It was a lot of fun, too!"
"Great engaging course. Modern teaching methods in an interactive format."
"Very practical. Love stimulation."
Want to join one of our public 3-day Agile Fundamentals courses? We run these courses about every 8 weeks.
We can tailor our Agile Fundamentals course to ensure that it fulfils your organisation's needs. To start the conversation, either book a time using the calendar below or message us.