In the 1950s, Carl Rogers made a defining change in the way therapists viewed their patients: rather than the expert therapist needing to fix the patient (as in psychoanalysis), Rogers proposed that the client was the expert in their own life and therefore the client was best-placed and capable to find a solution to their situation. Rogers believed the therapist's role was to help the client realise their own potential, supporting and encouraging them through a process of self-discovery.
Client-centred therapy (aka person-centred therapy; non-directive therapy; Rogerian therapy) believes that the therapist's attitude to the person is more important than their skills as a therapist. It asks them to have the following three characteristics:
Empathy
Congruence
Unconditional Postitive Regard
The last is the aspect we want to focus on for this post, but let's cover of the others briefly.
Empathy
This will be a topic of a future post but, for now, let's define empathy as identifying, understanding and accepting another person's thoughts, feelings or attitudes.
Congruence
An honest, authentic, genuine depiction of oneself.
Unconditional Postitive Regard
This is a key theme of Rogers' work.
Gillian Butler and Tony Hope (in Manage Your Mind: the mental fitness guide) explain the concept using an analogy of parental love: the child may do some things that the parent doesn't approve of, sometimes they may even not like the child, but the love remains regardless. 'It is unconditional in the sense that your personal, unique value does not depend on your origins or on your talents any more than it depends on what you do. It cannot be lost by doing something "bad" any more than it can be gained by doing something "good". You do not have to strive in any way to deserve it.'
And so the therapist is asked to accept and support the person, regardless of what they say or do. When a client understands that there are no conditions of acceptance, they can accept themselves and take responsibility for themselves. From there they can grow.
Like the therapist, coaches are asked to set aside their opinions and biases to accept their client's failings. The client can be themselves without worrying what the coach will think of them or that they may lose face, which encourages the client to open up. Trust is built. This is one reason coaches tend not to ask questions that begin "Why…?"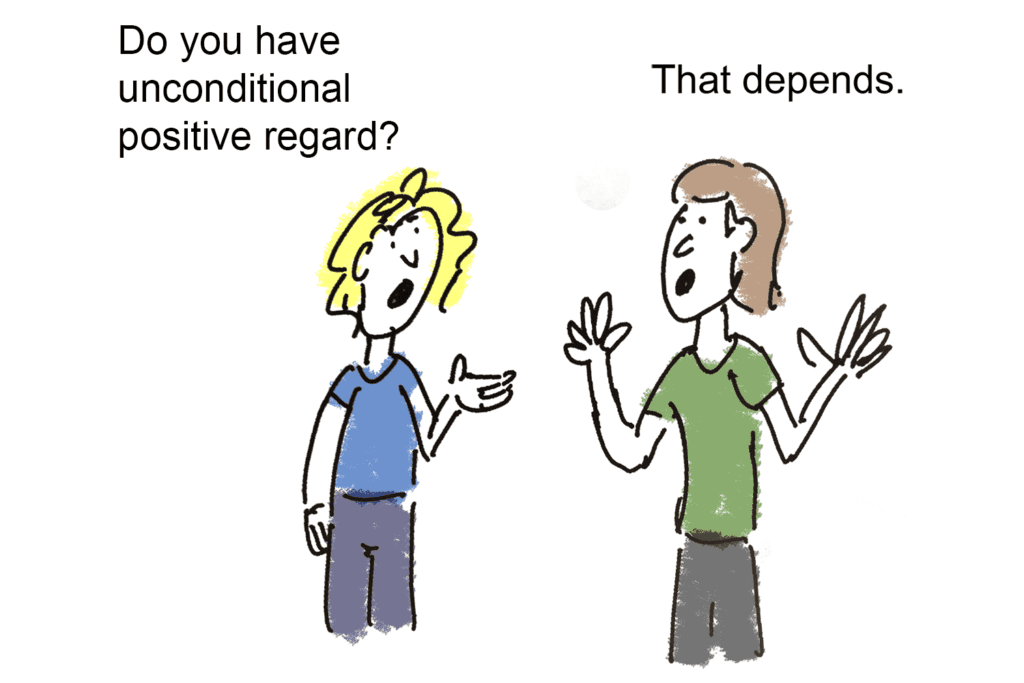 Is unconditional positive regard really possible?
Many suggest that therapists and coaches are unable to set their judgments aside because humans are judgemental beings. Would your opinion of someone be changed if they said they hated people of a certain race, sexual orientation, religious belief or gender? If so, that's conditional positive regard.
Maybe it's not binary (i.e. either having unconditional positive regard or not). Ruth Sanford argues 'that unconditional positive regard is an attitude varying along a continuum from intimate and long-term relationships to remote and brief contacts.' Maybe unconditional positive regard takes time to develop?