Would a Scrum Alliance conference be boring? Would I learn anything? Would it be attended by the same old people peddling the same old, by-the-book, approaches? On the other hand, how bad could 3 days in Prague be?
My mind was made up: I'd go to Prague for the 2015 Scrum Alliance Scrum Gathering.
I wasn't disappointed.
From the outset the signs were good. We usually only think about the organisation of conferences when they go wrong. This was noticeably well organised: from the app (detailing sessions, speakers, and maps of both the vast hotel and Prague town), to the accommodation, directions around the conference, the food and the friendly team. I don't think I've been to a conference that ran as smoothly (or at least looked like that from the outside). Registration was only made difficult because of the previous night's over indulgence with Svatomartinské wine (the Czech equivalent of Beaujolais Nouveau) at Lokal.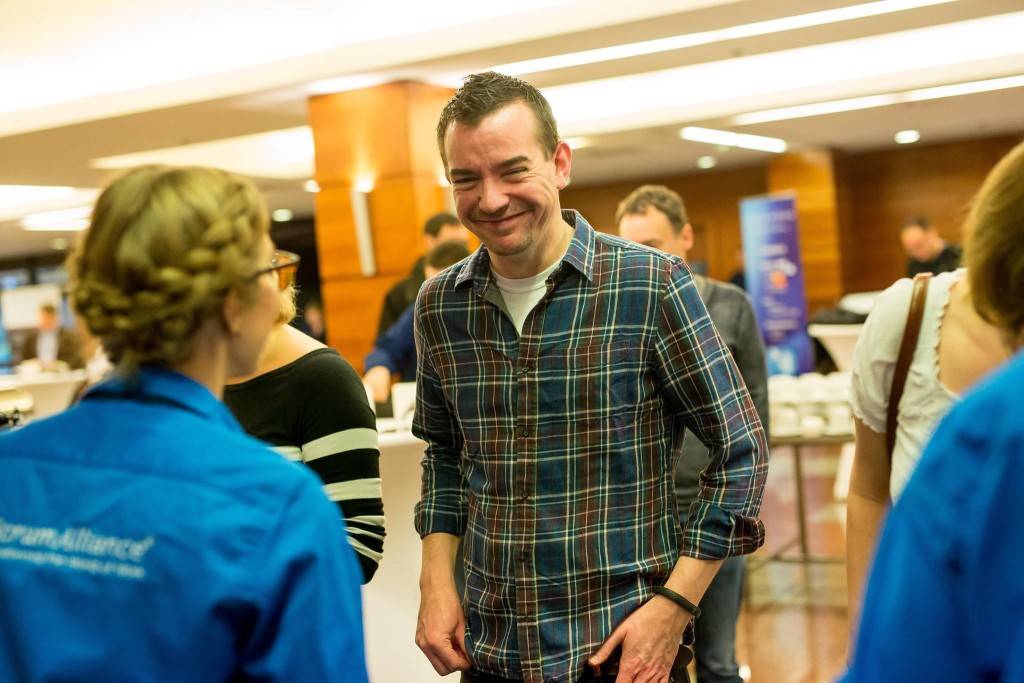 The opening keynote by Niels Pflaeging, entitled "Organize for complexity", was just what we needed to kick us off. His jovial style was the conference equivalent of a bloody Mary: comforting but also containing a kick and a dash of spice. Some thought his style was a bit rude, but I thought it was delivered with great humour; I don't mind the F-word in talks and have to wonder what response someone should expect if they interrupt a keynote speaker to ask if he really believes what he's saying?! His talk was part historical survey of the structure of organisations (from craft manufacturing through industrialism and Taylorism to global markets) and a look at an organisation model he feels is relevant for our complex, knowledge-based world. He obviously made an impression because I heard quite a few other sessions refer to points he made: in short, that we don't need more personal development; we need to change our business processes because none of us will do our best under a Theory X management style.
Other sessions attended included:
A session on Agile compensation by David Baer: who discussed the idea of letting the team decide on pay. I was a little disappointed because it seems that they can only make small, nominal gestures; it wasn't the self-management that I was hoping to hear about.
Fadi Stephan delivered a good session on user story anti-patterns. There were ten warnings including thinking that everything has to be a user story, skipping the acceptance criteria, having a definition of done and splitting stories incorrectly.
Two practical sessions on visualisation: the first by Jef Cumps and Kris Philippaerts, the second by Stuart Young. I'm now really looking forward to Stuart's #graphicjam sessions on Twitter.
Bas Vodde talking about LeSS ("More with LeSS: Introduction to Large-Scale Scrum (LeSS)") was both entertaining – consisting of a collection of anecdotes – and thought-provoking. I especially liked his point that multiple teams Scrum is what many companies are doing (multiple teams, maybe across various companies, working on the same product) as opposed to having multiple Scrum teams (which would be independent of one another).
Henrik Zatterman's Moving in Harmony: The Psychology Behind Change which was an interesting look into Prochaska and DiClemente's Stages of Change model.