I spend most of my time talking to people about identifying bottlenecks in their system so they can improve the flow of work passing through it. It doesn't matter whether it is building software, creating physical tools, or writing policy within government.
However, a recent article about a theme park in The Netherlands made me question whether queues can ever be beneficial?
Efteling opened in 1952, making it one of Europe's oldest amusement parks. It receives around 4 million visitors per year and the average queueing time in peak season is around 40 minutes. On Trip Advisor, as of today, 93% of reviews for Efteling give it 4 or 5 stars (whereas only 74% of visitors give Alton Towers those ratings). Pretty impressive.
But Efteling wants to see if it can make its users even happier. So it is testing whether making customers book a ride for a specific time has a positive impact. "Minimise the wait and maximise the pleasure" is their aim. So, from now, the only way to get a ride on its Python rollercoaster is to go onto the Efteling app, select a time for your ride and book it. You then show your boarding pass at the entrance to the ride. You cannot just turn up and queue for the ride (you also can only book the ride from within the park). This allows you to meander around the rest of the amusement park until your allocated time.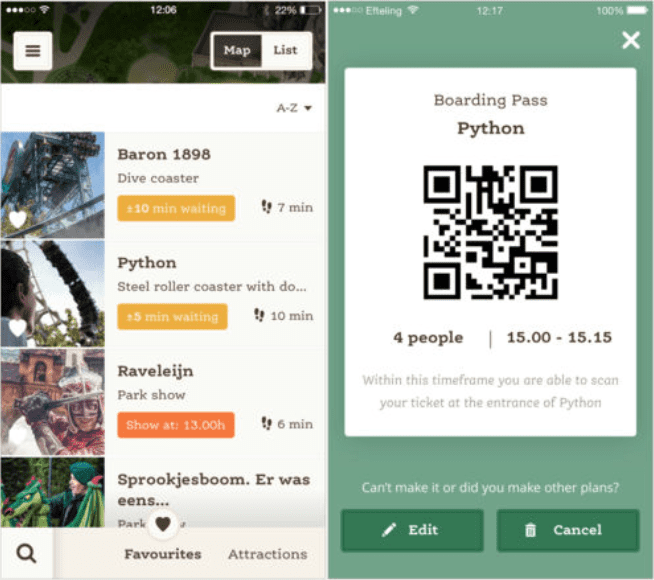 Great, ja?
Pascale E, who left a 3-star review on Trip Advisor in late September, would no doubt agree. He waited for over an hour for the new Symbolica ride and was very disappointed. Booking it in advance would no doubt have reduced that disappointment somewhat.
But a lot of park goers aren't so sure. It seems that many people feel queueing is part of the amusement park experience. Queueing apparently adds to the build up and anticipation before a ride. One of the interviewees in the BBC article said that a "time slot would take quite some of the fun away" because kids will be on their phones using the app rather than just walking around.
So maybe, sometimes, a queue adds an element of suspense that benefits customers. I'll let you know what the feedback to Efteling is.