We have noticed that interest in the Kanban Method has been growing steadily over the years. We have always resisted creating a Kanban-focused bootcamp because we feel that it is difficult to give a one-approach-fits-all summary of Kanban; we much prefer a tailor-made approach through coaching.
However, some of our private clients have requested a brief introduction ahead of coaching engagements, so we have created a one-day introduction of the concepts. The workshop can be tailored to meet an organisation's specific needs, but we believe it gives them a good foundation on which to implement the Kanban principles and mindset.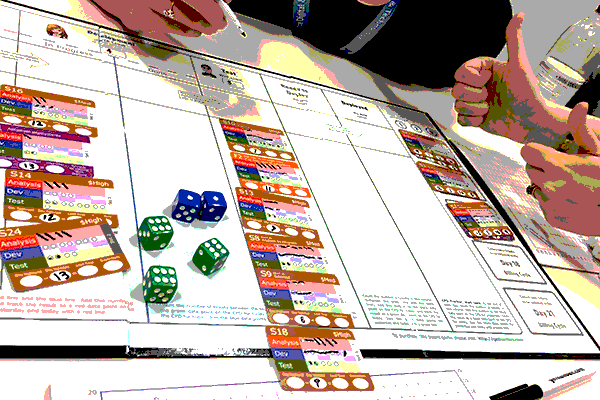 What do we cover?
In one day, we manage to:
look at a brief history of the Toyota Production System (and lean in general) to understand how the Kanban Method came about
explain the basics of systems thinking through a hands-on exercise, then use it to explain the concept of visualising work to improve communication
break down the six principles of the Kanban Method
clarify key terms used (e.g. cycle time, delivery rate, work-in-progress limits)
explain what work-in-progress limits are, then illustrate how and why you should use them to create a pull system
demonstrate ways of measuring flow to enable improvements in productivity and flow
play a simple and fun Kanban simulation game to ensure a deep understanding of the above takeaways
share examples of successful implementations.
Target audience
We assume no prior knowledge of lean or Kanban, although some knowledge of Agile and Scrum helps us delve deeper into the group's needs. All we ask is that attendees have an open mind and are striving to improve their ways of working and increase their productivity.
Interested?
We are happy to discuss delivering the above workshops (or something more bespoke) at your organisation. Please contact us for a quote or to discuss availability.
Our first public bootcamp of the new course is in March 2018 at General Assembly London.