Happy birthday to you,
Happy birthday to you,
Happy birthday London Agile Discussion Group,
Happy birthday to you.
Last week, the London Agile Discussion Group held its 100th session. It all began over 4 years earlier …
On Tuesday 20 August 2012, I climbed the stairs to a tiny room above a pub in Victoria, London, for a discussion entitled "Story Points or Ideal Days: which is better?"
This was the inaugural session of the newly formed London Scrum Discussion Group whose aim was to discuss books on agile and Scrum. Seven people turned up on that first night. A fortnight later we met again, this time to discuss "Should testing be included in the Sprint and in estimates?" This time 20 people turned up. The following session two weeks later saw another 20 people turn up to discuss "What makes a good retrospective".
Since then, we have changed our name (to London Agile Discussion Group) and moved venue (to The Savoy Tup, just off The Strand). We've used many different formats, from debates to group exercises, from 4-chair fishbowl (you can only speak if sitting on one of the chairs and one of the chairs must always be left empty) to role-playing. One thing has remained unchanged throughout the 100 sessions: "We value discussions and debates over presentations and lectures". That's our strapline because we are a discussion group; we don't do presentations.
This has tripped us up on a couple of occasions when we set a topic for discussion, only to find that it was unlikely any of the attendees were likely to know about the topic. It's very hard to have a discussion about something that nobody knows anything about. For example, the session on 5 April 2016 was entitled "What is Crystal Clear?" It's creator, Alistair Cockburn, was one of the original signatories of the Agile Manifesto and, when the Manifesto was formed in Snowbird, Crystal had more traction amongst the signatories than Scrum did. But where is it now? Nobody who turned up for our session knew anything about it. Fortunately, we'd pre-empted this, spoken to Alistair, and come up with novel ways to both hold a discussion AND explain what Crystal was about. However, that took a lot of effort.
After 100 sessions, the organisers have reviewed how we should run the group. We are going to keep the focus on discussions, we are going to keep it free, we are going to keep the topics varied and engaging. But, we are going to change the cadence to monthly, focusing on quality over quantity.
And what quality we have in our future. We have Georg Fasching running a session on team dynamics, another looking at whether we should focus more on descaling rather than scaling agile, and a workshop with Dan Ashby on writing BDD scenarios in the new year.
Thank you to everyone who has helped run sessions at LADG over the years, and thank you to everyone who has attended a session too. Afterall, a discussion is nothing without participation from you.
Please go to London Agile Discussion Group for more information of upcoming events.
Photos from past LADG meetings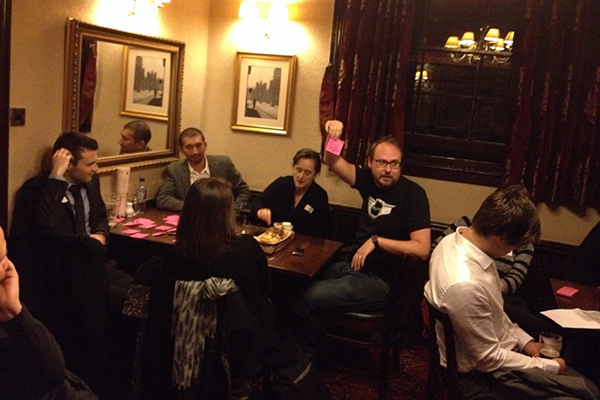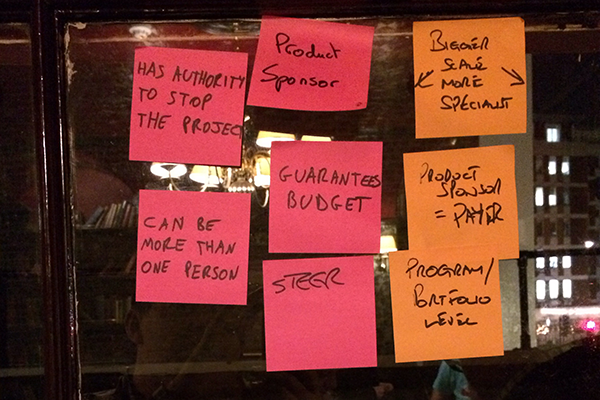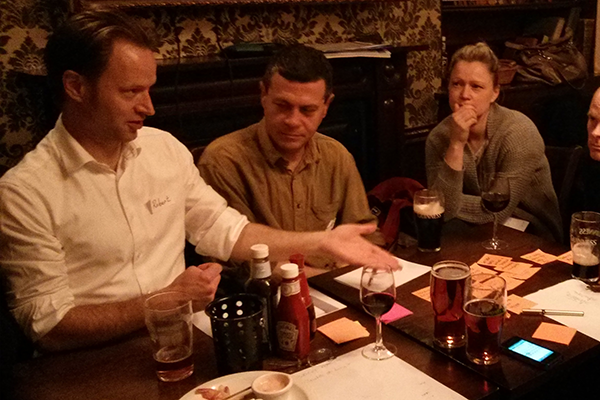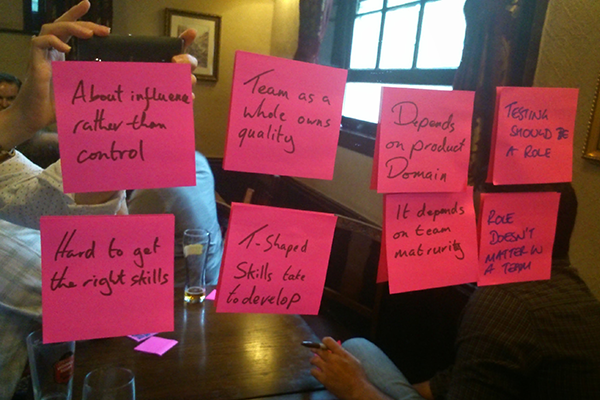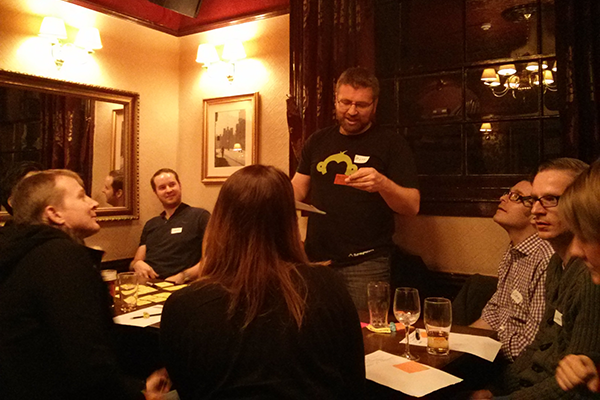 The last 100 sessions
| | |
| --- | --- |
| 20 Aug 2012 | Story Points or Ideal Days: which is better? |
| 4 Sep 2012 | Scrum discussion: should testing be included in the sprint and in estimates? |
| 18 Sep 2012 | What makes a good retrospective |
| 2 Oct 2012 | Promoting Scrum to non-believers |
| 16 Oct 2012 | How to build the best Scrum board |
| 30 Oct 2012 | Scrum sucks! Kanban rules! |
| 13 Nov 2012 | Does Scrum really work for remote teams? What are the tricks to help? |
| 27 Nov 2012 | Quick-fire questions (Christmas Special) |
| 22 Jan 2013 | Quick-fire questions |
| 5 Feb 2013 | Agile & Scrum for beginners: an introduction |
| 19 Feb 2013 | Kanban |
| 5 Mar 2013 | How to manage bugs when they appear mid iteration |
| 19 Mar 2013 | Release planning: what is it and how do you do it? |
| 2 Apr 2013 | What makes a good user story? |
| 16 Apr 2013 | How to fit interaction design into a user story |
| 30 Apr 2013 | Is being cross-functional really best? What does it mean? |
| 14 May 2013 | How to estimate |
| 28 May 2013 | What is Lean? |
| 11 Jun 2013 | The best bits of agile |
| 25 Jun 2013 | Your one piece of advice |
| 9 Jul 2013 | Using agile with external teams |
| 23 Jul 2013 | Scrum boards: electronic v physical |
| 6 Aug 2013 | Dealing with technical debt |
| 20 Aug 2013 | Iteration zero – what is it and should it exist? |
| 3 Sep 2013 | Does Scrum really work for remote teams? |
| 17 Sep 2013 | How to split user stories |
| 1 Oct 2013 | How to be an agile coach |
| 15 Oct 2013 | Planning poker |
| 29 Oct 2013 | How to introduce Scrum to an established team (including sceptical management) |
| 12 Nov 2013 | Stories don't ALWAYS need to be broken down to fit the iteration |
| 26 Nov 2013 | When is waterfall a better framework to use? |
| 10 Dec 2013 | Christmas dinner |
| 7 Jan 2014 | What is the difference between an epic, theme, story & task? |
| 21 Jan 2014 | No Estimates |
| 4 Feb 2014 | How to sell Agile to middle managers |
| 18 Feb 2014 | The most effective ways to explain Scrum |
| 4 Mar 2014 | What's the difference between a Product Owner, Product Sponsor, Product Manager? |
| 18 Mar 2014 | Scaling up Scrum with a growing team/product |
| 1 Apr 2014 | Setting Sprint Goals |
| 15 Apr 2014 | MVP. MMF. MMP. What? |
| 13 May 2014 | Mapping a project's progress |
| 27 May 2014 | What is Scrumban? |
| 10 Jun 2014 | What is the meaning of "commitment"? |
| 24 Jun 2014 | Kanban reports |
| 8 Jul 2014 | Testing as an activity rather than a role |
| 22 Jul 2014 | #LeanBeer |
| 5 Aug 2014 | Low tech burndown charts |
| 19 Aug 2014 | Debate: "There is no longer a need for a Product Owner" |
| 2 Sep 2014 | What is TDD and BDD? |
| 16 Sep 2014 | What bits of agile/lean are most effective for producing quality? |
| 30 Sep 2014 | Techniques to make planning fun |
| 14 Oct 2014 | User stories: is the "As a <who>, I want <what> so that <why>" format harmful? |
| 28 Oct 2014 | Debate: XP is the best of all agile approaches |
| 11 Nov 2014 | The 5 dysfunctions of a team |
| 25 Nov 2014 | Are testers seen as lower status than other members of the team? |
| 9 Dec 2014 | Christmas Dinner |
| 6 Jan 2015 | Do we really need to estimate? |
| 20 Jan 2015 | Metrics: help or hinderance? |
| 3 Feb 2015 | What do you do when your dev team is agile, but the rest of the business isn't? |
| 17 Feb 2015 | Debate: "We should get rid of sprints" |
| 3 Mar 2015 | Debate: "QA is responsible for quality" |
| 17 Mar 2015 | Can agencies be agile? |
| 31 Mar 2015 | Debate: "We should get rid of Sprint 0" or "You should deliver in Sprint 0" |
| 14 Apr 2015 | Design Thinking: An Emerging Problem Solving Approach |
| 28 Apr 2015 | Should ScrumMasters be software developers? |
| 12 May 2015 | What distinguishes a self-organising team? |
| 26 May 2015 | Debate: This room believes that DevOps should be a person not a team-wide skill! |
| 9 Jun 2015 | How to approach a new project using a lean startup approach |
| 23 Jun 2015 | Estimation approaches |
| 7 Jul 2015 | Debate: Scrum is dead! |
| 21 Jul 2015 | What do we mean by 'value'? |
| 4 Aug 2015 | Debate: "You don't need to scale agile" |
| 18 Aug 2015 | Iterative and incremental approaches |
| 1 Sep 2015 | How to explain agile without using words! |
| 15 Sep 2015 | Debate: Technical excellence is more important than frequent delivery |
| 29 Sep 2015 | How do you get away from being a "puppet Product Owner"? |
| 13 Oct 2015 | Why do we need acceptance criteria? |
| 27 Oct 2015 | Should Scrum Masters line manage the team? If so, how? |
| 10 Nov 2015 | What are the different approaches for "scaling agile" |
| 24 Nov 2015 | Self-organising and self-managing: is there a difference? |
| 12 Jan 2016 | Agile pub quiz |
| 26 Jan 2016 | What technical (development) knowledge should a PO have? |
| 9 Feb 2016 | #NoEstimates |
| 23 Feb 2016 | Debate on the Agile Manifesto: do we really value the items on the left more? |
| 8 Mar 2016 | Should you ever let a defect go live? |
| 22 Mar 2016 | How do you estimate a project when you know barely nothing about it? |
| 5 Apr 2016 | What is Crystal Clear? |
| 19 Apr 2016 | Guest session with Morten Elvang: Game Changing Beliefs |
| 3 May 2016 | An introduction to systems thinking |
| 17 Mar 2016 | How do you use velocity if your team changes? |
| 31 May 2016 | Debate: Release plans are NOT needed |
| 14 Jun 2016 | Returning to the Heart of Agile with Alistair Cockburn |
| 28 Jun 2016 | How to deal with dependencies |
| 12 Jul 2016 | Anti-patterns: the smells of bad ceremonies |
| 26 Jul 2016 | How do you compensate for an absent Product Owner? |
| 9 Aug 2016 | Should an agile team be able to do whatever it chooses? |
| 23 Aug 2016 | How can we overcome the challenges we face when we have distributed teams? |
| 6 Sep 2016 | Feedback loops |
| 20 Sep 2016 | Splitting user stories (workshop) |
| 18 Oct 2016 | 100th session of LADG!!!! |