I've been using Trello quite a lot recently: it seems to be the tracking tool of choice for many because it is lightweight, simple to use and free.
But with simplicity comes a lack of features. Unlike other systems (e.g. LeanKit and Jira), it doesn't have metrics such as cumulative flow diagrams (CFD), control charts or histograms.
Whilst at GDS, we used to export data from Trello and paste it into a Google-based reporting suite. Although Emily Webber's fantastic reports are open-source, getting the data out of Trello was beyond most people's ability (luckily we had Oli Sinden on our team).
But there is good news: Rhys Godfrey and Nick Hills have created a CFD that is very easy to apply to your Trello board – and it works retrospectively too. To get it working, all you need to do is:
Log in to Trello

Choose the Trello board you want to report on

View your CFD
The CFD shows data from the creation of the board to the current time (or when the board was closed), plotting 15 points in-between. Cards that have been deleted are not shown at all.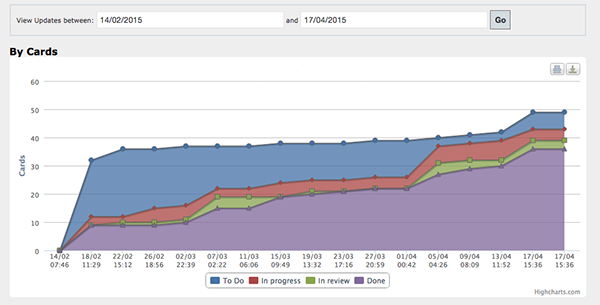 Sure, it's basic. But, as the pair say, it "is a side project" and they invite us to help them improve the site or add extra features by pulling the code from Github. I spoke to Rhys about getting control charts and histograms added and he is definitely willing to get someone on board to help take this forwards. Who wants to get involved?
Have you seen a plugin or site that takes data from Trello and creates charts? If so, leave us a comment because we've not seen anything like it before.