A friend of mine recently pointed me in the direction of an article by Joao Medeiros in Wired magazine, titled: Behind the scenes with Chris Froome and Team Sky ahead of the Tour De France 2016. As I began to read the article, I was immediately interested, not only because I'm a keen cyclist, but because I had started to draw parallels between the world of cycling and the world of Agile.
The article starts by talking about Chris Froome, the GC (general classification) rider for Team Sky, and two time Tour de France winner. It describes how, when riding, Froome "imagines he has a bag of coins to spend". "Every time he wastes energy, he needs to pay". Essentially, every time Froome moves out of his comfort zone, when he has to take action over and above what is comfortable, he mentally spends coins. If he spends too many coins, he has no energy left when he may need it the most. It struck me that this could be a good analogy for identifying and managing waste in software delivery environments. Every time we identify a defect in production, or we incur rework because we've spent too long working independently of each other, we spend some coins. In our case, the coins represent time and the bag represents the total amount of time we may waste before the negative impact of that waste cannot be managed effectively.
Aside from outlining Froome's incredible power and speed statistics, the rest of the article is dedicated to outlining how Team Sky was formed, and how it became one of the most successful pro cycling teams of recent years. Tim Kerrison, head of athlete performance and former sports scientist with the incredibly successful Australian swimming team, was hired by Dave Brailsford (now Sir) with the objective of winning the Tour de France within five years. In order to achieve that, they needed a change in approach: "We recognised if we do what we've always done, we'll get what we've always got. That needed to change". Brailsford and Kerrison set about creating a plan.
A fair number of cycling races are won by a very small margin, but rather than focussing on trying to achieve these marginal wins by attempting to obtain big gains from one particular area, Brailsford and Kerrison identified that many smaller gains combined would create the same outcome, and may be easier to achieve. Team Sky coined the phrase, "marginal gains". In order to identify what changes they may need to make, the team went back to basics. "I work on the basis that everything we do is probably wrong", states Kerrison, although it's clear that this is positively stated and he isn't trying to beat himself up.
Here we can draw parallels with the continuous improvement concepts we use in software delivery. Instead of making the occasional big change, we continuously inspect and adapt the way we work, making 'marginal gains' as we go. All of these small changes combined equate to a continuously improving system that, over time, helps teams become more efficient and more effective at creating valuable products for their customers.
Team Sky won the Tour de France with Bradley Wiggins in 2012, four years after they set their five year objective. Since then, Froome has added two more wins in 2013 and 2015, giving Team Sky three wins in 5 years in what is widely considered to be the toughest endurance event on the planet.
At the time of writing, Froome is leading the 2016 Tour de France with a healthy 2 minute and 27 second advantage in the yellow jersey over his nearest rival.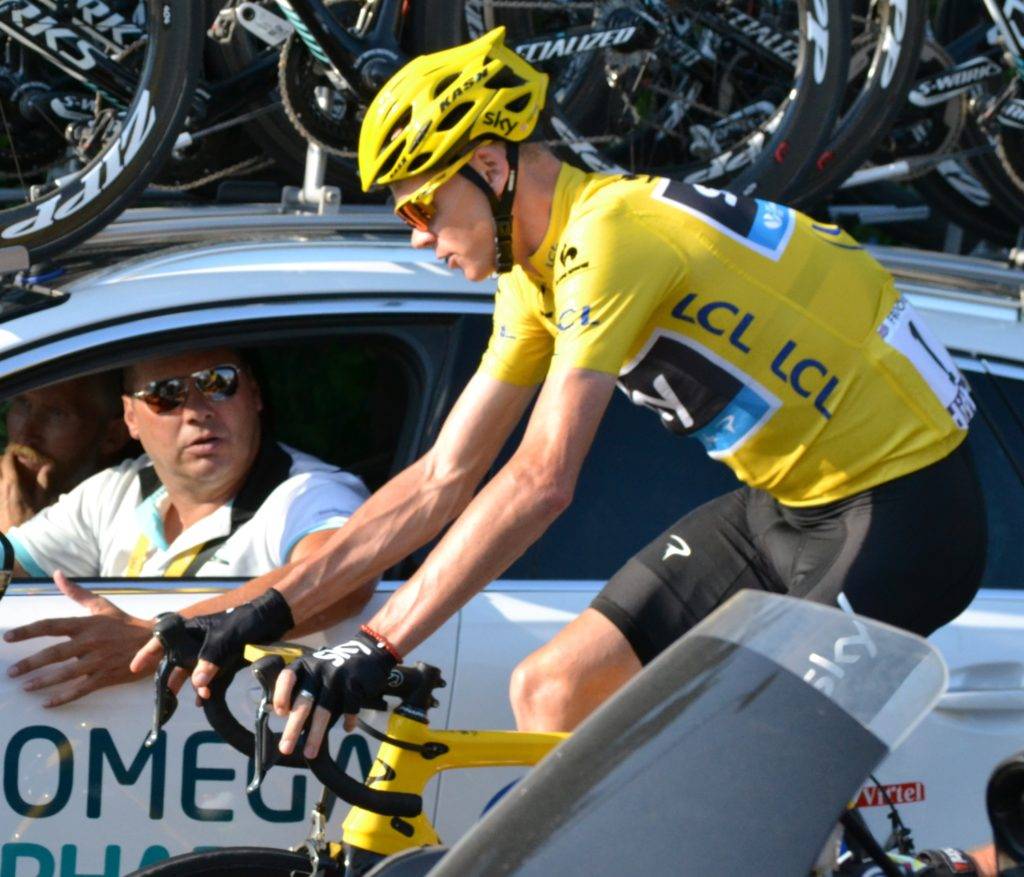 Image credit (under creative commons licence): Wikipedia