Agile Team Coach (ICP-ACC)
February 20, 2019

-

February 22, 2019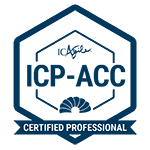 Date: 20-22 February 2019
Location: London, United Kingdom
Regular Price: £1,500 – £2,760
Trainers: Georg Fasching (assisted by David Lowe)
---
Agile and Lean work when there is deep respect and consideration for people. However, often the behaviours we experience and sometimes exhibit at work are not in alignment with our own goals and the goals of the organisation. This is what makes achieving agility so hard.
Professional coaching helps individuals and teams increase transparency of their own internal and external blockers that stop them from being successful in achieving their goals.
During this 3-day highly interactive ICAgile-Certified coaching course you will learn specific professional coaching skills required to help others who are moving towards Agile ways of working. You will also gain the understanding and skills required to create a safe environment for meaningful collaboration and healthy conflict resolution within an agile team and be exposed to team dynamics and the role the wider organisation system plays.
---